College Leaders at the United Nations: Korea Summer 2023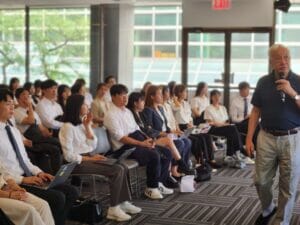 Fifty-five student representatives from 25 universities took part in the twelfth edition of WFUNA's College Leaders at the UN Program. The participants are Korean nationals, selected and sent from their respective universities to represent the school at the United Nations. The student cohort started the program in April 2023, meeting once a week to learn about the Sustainable Development Goals.
The participants were divided into six groups. Each group picked a particular goal and target for more in-depth study. Groups studied targets in Goal 12, Goal 13, and Goal 16. Also, the International Career Team was newly established. Their work culminated in a week-long visit to the UN Headquarters from 14-18 August, where the students met with experts and practitioners on the aforementioned SDGs. 
Panelists and speakers were from UN departments and agencies, UN Missions, civil society, academia, and local government, including UN Department of Global Communications (UN DGC), UN Development Programme (UNDP), UN Environment Programme (UNEP), UN Global Compact, and the ATD Fourth World. 
College Leaders at the United Nations: Korea 2024 Winter
The 13th College Leaders at the UN: Korea will take place in New York from Jan. 22~26, 2024. 50+ Korean students from more than 20 universities will be visiting the UN HQ to learn about the work of the United Nations and also enhance their understanding on the UN Sustainable Development Goals(SDGs). The group will focus on SDG 12, 13, 16 and deliver their policy recommendations to the Missions and UN staffs.
---
Register for a program
Do you want to learn more about the UN? Or implement an SDG project in your community? Our programs will give you the skills and connections you need!
Learn More
Become a Partner
Are you part of an organization, foundation or school that wants to help achieve the UN's Sustainable Development Goals? We are always open to collaborating to help connect more people to the UN and empower global citizens.
Let's start a conversation!