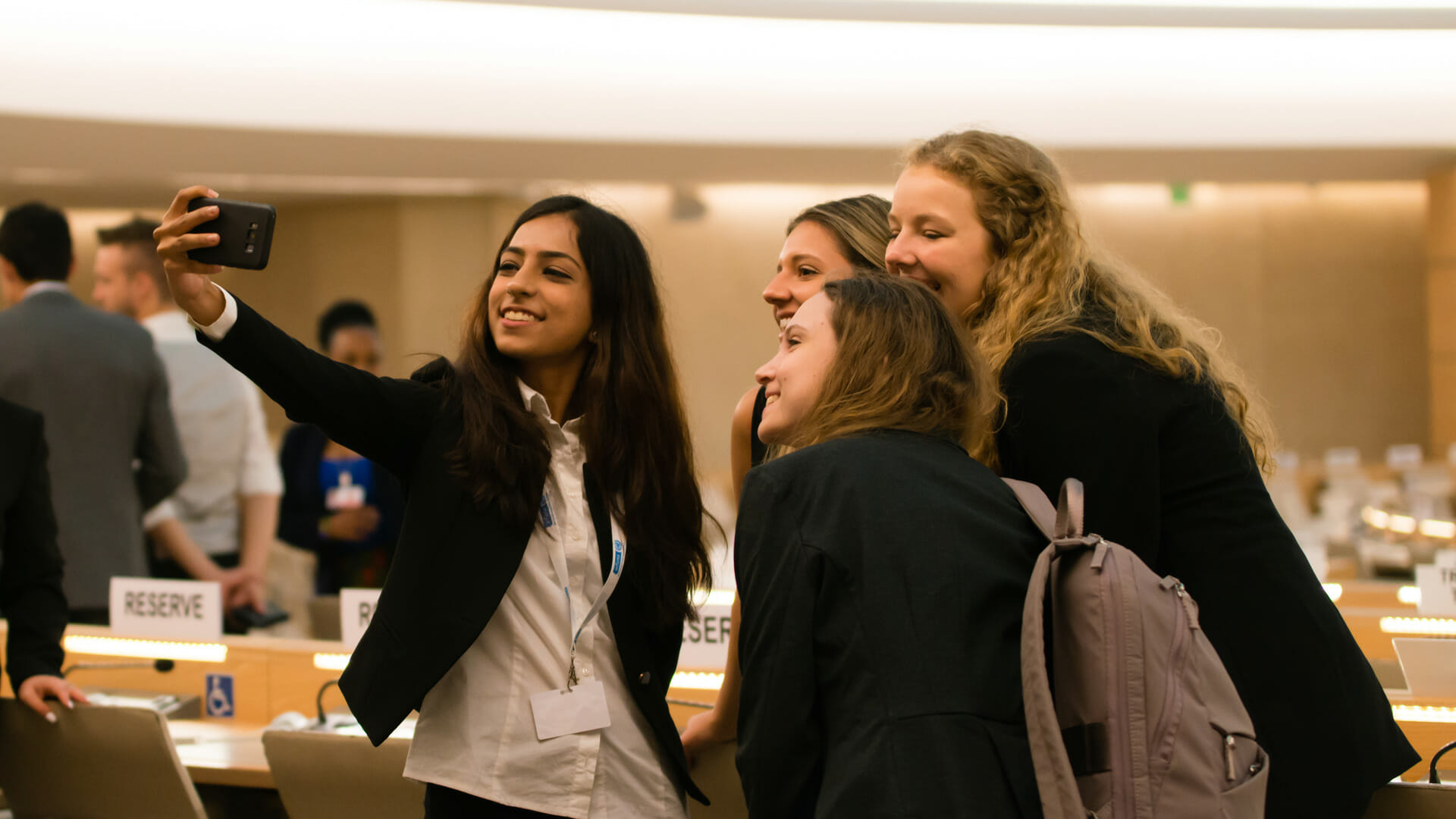 Years
Engaging Global Citizens
About WFUNA
WFUNA represents and coordinates a membership of 100+ United Nations Associations (UNAs) and their thousands of constituents around the world.
Become a Partner

What we do.
WFUNA works to strengthen and improve the UN through training programs, events and partnerships. Our programs foster critical-thinking and problem-solving. They empower people of all ages to act in their communities.
Learn More
Global Network.
UNAs are national civil society organizations that provide a link between the citizens of the world and the UN. They work to ensure that the UN is relevant to the lives of the people it exists to serve.
Find your local UNA
Get Involved.
Become a partner, volunteer, make a donation…join the movement. Your help will bring people together to improve lives around the world through the creation of a stronger and more effective UN.
Take Action
Our Programs
01
02
03
04
05
06
07
08
09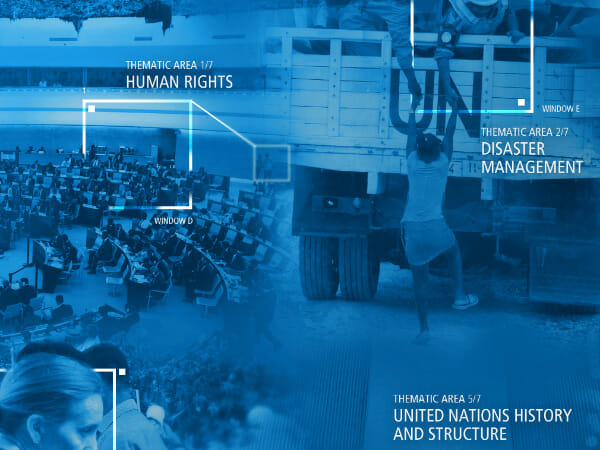 UN Spotlight brings the UN and the world of multilateral diplomacy directly to students. Study the most pressing issues on the international agenda and how you can contribute to shaping a more peaceful world.
Online classes and interactive sessions
Immersion into the core values of the UN
Speakers from all over the world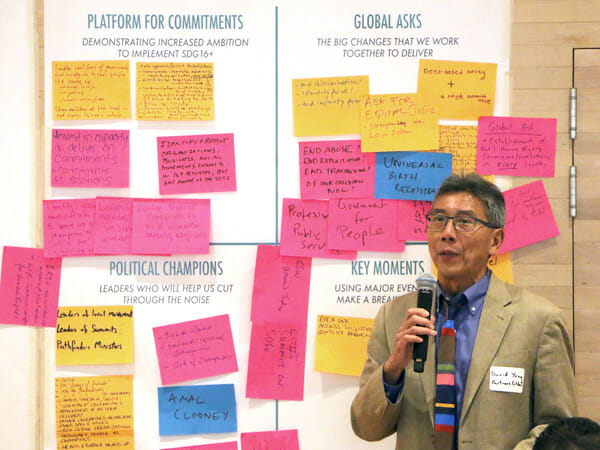 A platform for showcasing the advancement of peaceful, just and inclusive societies in policy and practice for governments, civil society, the UN, regional and international organizations, academia, private sector and media.
A platform dedicated to SDG16+
SDG 16 as a link across the 2030 Agenda
Events, publications, conferences, and more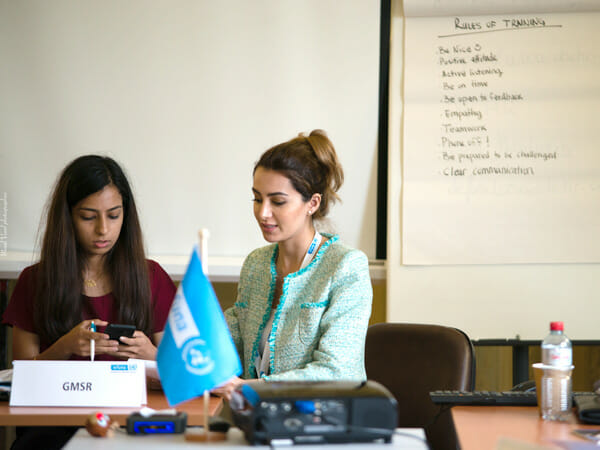 Tailored to enhance youth activism, HRA leverages the human rights infrastructure in Geneva to offer a unique training followed by a project implementation phase.
Broad range of human rights issues
Peer-to-peer engagement
In collaboration with Office of High Commission for Human Rights
WFUNA hosts debates and briefings for Member States running for a non-permanent seat on the UNSC, Exit Briefings for outgoing members, and monthly Civil Society Dialogues with the rotating Presidents of the UNSC.
More engaging election process
Improved transparency around all UNSC processes
Increased civil society access to UNSC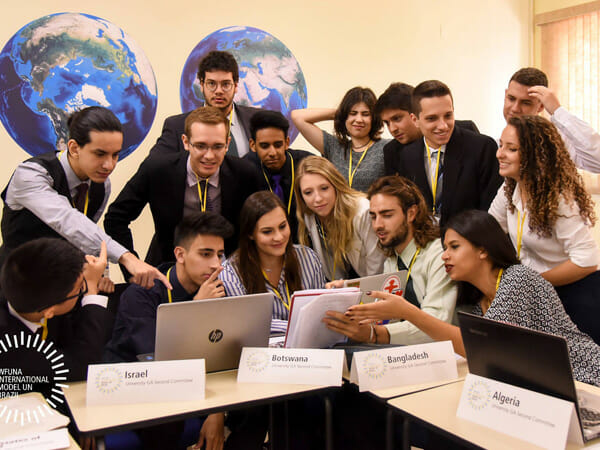 WIMUN is an award winning conference that offers the most accurate simulation of the United Nations in the world. Build leadership skills, engage with the UN's current program of work, become an agent of change.
Most accurate simulations
History of the UN and how decisions are made today
Emphasis on current UN consensus building process
WFUNA's Training Programs offer the necessary tools to understand evolving global challenges. Get specialized knowledge and information to develop and reinforce practical skills that will allow you to critically engage with the work of the UN.
Explore critical international issues
Be immersed in the world's diplomatic hubs
Build a career in international affairs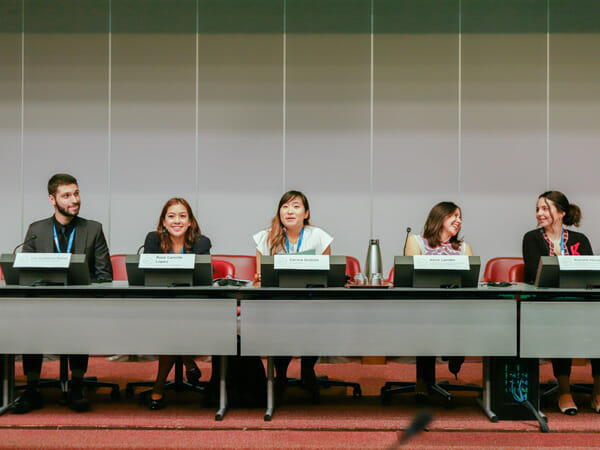 Global Model WHO
The Global Model WHO provides an authentic student-led simulation of the World Health Assembly (WHA) to high school and university students from all over the world. Learn about global health issues and how decisions are made.
In collaboration with the World Health Organization (WHO)
Chair meetings and negotiate resolutions
Side events with WHO and UN speakers
Citypreneurs is a UN-backed ecosystem building growth platforms for startups that aims to find and scale technological solutions for implementing the SDGs in cities. Pitch to investors, public officials, private sector lenders and peers.
Capacity building to enhance technical skills
Multi-stakeholder dialogues and networking
Pitch platform for innovative ideas
A unique opportunity for young people with innovative ideas to receive high-quality training on the Sustainable Development Goals (SDGs) and project management, and then develop and implement a project throughout the year.
Support for implementing a project in your community
Project management skills
Ship expedition with peers
1945
1946
1948
1953
1966
1967
1975
1977
1980
1983
1986
2013
2015
2016
2020
2021
1945
UN Charter proclaimed with the opening words "We the peoples of the United Nations…"
1946
Aug 2
WFUNA founded by 22 member UNAs committed to involving the public in the UN's mission.
1948
Universal Declaration of Human Rights adopted by the UN and WFUNA declares human rights advocacy a central part of its programs.
1953
"I wish […] to express my appreciation of your most essential service. […] Over the years you have accomplished much and have acted with an ever increasing sense of your great responsibilities." – UN Secretary-General Dag Hammarskjöld, to WFUNA's 12th Plenary Assembly
1966
WFUNA launches 30th anniversary fundraising program to promote the ideals of the UN with stamps and lithographs produced by artists and celebrities. The decades-long project included work by Picasso, Lou Zheng Jang, Miro, Salvador Dali, Ruben Leyva, Al Hirschfeld, Norman Rockwell and Andy Warhol.
1967
WFUNA helped promote Security and Co-operation in Europe (CSCE) by holding the first conference on this topic.
1975
WFUNA and other NGOs campaigns end with the signing of the Final Act in Helsinki by 35 governments, establishing the CSCE process.
1977
117th WFUNA Executive Committee sends resolution to the 32nd General Assembly of the UN on restricting nuclear weapons in South Africa and Rhodesia.
1980
WFUNA facilitates high-level informal consultations on disarmament issues between key experts of the USA and USSR throughout the Cold War.
1983
WFUNA organizes a number of NGO Seminars on Disarmament in cooperation with the UN, UNESCO and other NGOs.
1986
UN resolution 41/68 recognizes WFUNA as "the only non-profit that is entirely dedicated to mobilize popular support for the goals and principles of the United Nations" and asks for "all governments to help WFUNA" in its actions.
2013
UN resolution 64/86 commends WFUNA and its UNAs for the valuable contributions they have made, and calls for "continued collaboration between the World Federation and the Department of Public Information in support of their complementary objectives."
2015
UNAs around the world adopt the 2030 Agenda, and prioritize the Sustainable Development Goals (SDGs) on their agendas.
2016
WFUNA launches historic Security Council Election Debates with candidates competing for non-permanent seats to increase civil society access and transparency in the procedure.
2020
WFUNA resumes an art-driven fundraising program for the UN's 75th anniversary with "fragile multilateralism" as the leading message.
2021
WFUNA celebrates 75 years of connecting people to the work of the United Nations in order to promote a better world for all.
0000
WFUNA celebrates 75 years of connecting people to the work of the United Nations in order to promote a better world for all. Test
From WFUNA's Network
"I felt like I was working at the UN for a week. It felt as if I was part of the system!"
New York
"After this workshop I understand what it means to be a global citizen and the importance of implementing the SDGs by 2030"
Yerevan
"I have seen the difference [WFUNA] makes around the world. Thank you for your enduring support for the United Nations, you are among our strongest allies and advocates in communities around the globe"
Former Secretary-General of United Nations
Register for a program
Do you want to learn more about the UN? Or implement an SDG project in your community? Our programs will give you the skills and connections you need!
Learn More
Become a Partner
Are you part of an organization, foundation or school that wants to help achieve the UN's Sustainable Development Goals? We are always open to collaborating to help connect more people to the UN and empower global citizens.
Let's start a conversation!