The WIMUN Advantage
About the Program
Our award-winning conferences take place annually in New York and Geneva, bringing together students from across six continents.
By participating in WIMUN, students not only have the opportunity to learn how the UN truly functions but also to interact with UN staff and other experts, while honing their skills in negotiation, teamwork, and consensus-building. Join us at WIMUN to develop the skills you need to be an agent of change in the world.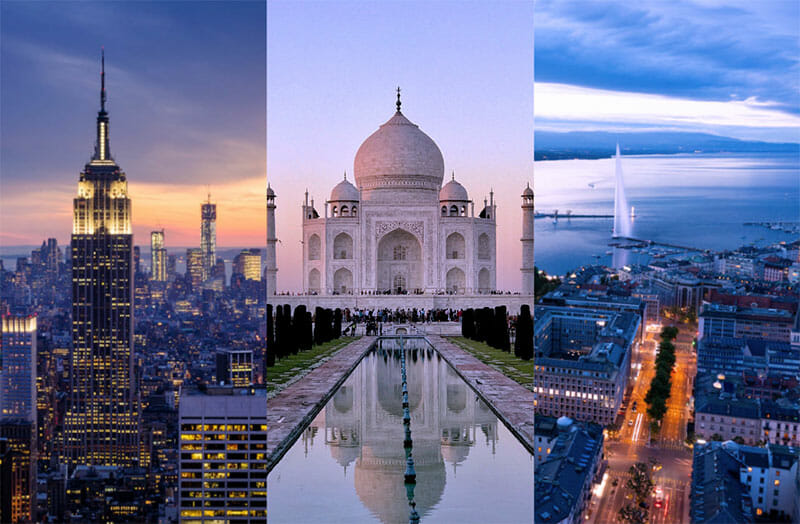 Amazing Locations
WIMUN takes place in some of the most exciting and culturally rich locations around the world: New York and Geneva. In New York, participants have the opportunity to explore the city that never sleeps, with its towering skyscrapers, bustling streets, and world-famous landmarks such as the Statue of Liberty, Central Park, and Times Square. At previous conferences in New York, most Opening and/or Closing Ceremonies have been held at UN Headquarters, which is subject to availability, providing a rare opportunity to step inside the United Nations and experience the thrill of diplomacy firsthand.
In Geneva, delegates will be immersed in the heart of international diplomacy, with its picturesque lakeside location, rich history, and cultural diversity. Home to numerous international organizations, including the United Nations Office at Geneva, delegates will have the opportunity to visit the Palais des Nations, the headquarters of the United Nations in Europe, and experience the excitement of multilateral diplomacy up close. At the previous Geneva conference, the Opening Ceremony was also held in this magnificent setting, which is subject to availability, offering participants a unique and unforgettable experience.
Award-winning Conferences
WIMUN is proud to have received multiple "Best Large Conference" Awards from MyMUN. Winning these awards is a testament to our commitment and dedication to excellence and providing participants with a truly exceptional experience. These awards are fully based on feedback from previous participants, making them a true reflection of the high level of satisfaction and engagement that our conferences consistently achieve. We are honored to be recognized as one of the leading Model UN conferences in the world and are committed to maintaining the high standards that have earned us these accolades.
Consensus-Building
At WIMUN, we are committed to accurately simulating the United Nations and providing participants with a realistic and authentic experience. Consensus-building is a key part of this experience. While traditional Model UN simulations make all of their decisions by voting, today most of the decisions — throughout the UN system — are made without a vote. That is because Member States recognize that there is more support for recommendations made in resolutions and other outcome documents when the negotiation process is driven by a desire to reach consensus. By emphasizing consensus-building, WIMUN provides participants with a unique opportunity to experience firsthand the challenges and complexities of international diplomacy.
Through our approach to consensus-building, participants learn valuable skills, such as, how to negotiate in the spirit of consensus and how to be an active listener that are both vital for a successful negotiation process in the world of international diplomacy. By prioritizing collaborative problem solving over competition, WIMUN creates an environment that encourages participants to engage with complex global issues and develop a deeper understanding of the UN's decision-making processes.
International Friendships
At WIMUN, participants have the opportunity to connect with like-minded individuals from around the world and develop lasting friendships. Our conferences have brought together students and teachers from over 100 UN Member States, spanning six continents of the globe. This diversity allows for a unique cultural exchange, where participants can learn about different cultures, customs, and traditions, and gain a deeper understanding of the world around them.
The friendships and connections made at WIMUN are invaluable and last long after the conference is over. Participants leave with a global network of contacts, which can prove to be beneficial for future academic and professional endeavors. The cultural exchange aspect of the conference is particularly important, as it fosters mutual respect, understanding, and tolerance among people of different backgrounds, and helps to promote peace and harmony in the world.
Leadership Opportunities
WIMUN is a student-run conference that provides leadership opportunities to all participants, including the chance to be part of the conference Secretariat and chair meetings for the various simulations. Delegates wishing to be a Chair are democratically elected by other participants. Moreover, WIMUN also offers the chance to lead a regional or political group during the negotiation process. This involves representing the group's positions during negotiations while ensuring that members agree with any new proposals that are put forward to change the texts that are being negotiated.
These leadership roles demand strong communication skills as well as the ability to navigate complex issues and make decisions under pressure. This offers invaluable experience in decision-making, diplomacy and public speaking, applicable to many career paths.
Multicultural Events
WIMUN is not just about work and debate, it is also about celebrating the diverse cultures and traditions of our participants. Our social events are designed to showcase the unique customs and practices of the countries that our participants come from, allowing them to share their heritage with others in a fun and interactive way.
One of the highlights of the conference is the WIMUN Global Experience, a "fair of nations" where participants showcase their own culture to other participants through food, dance and song, traditional clothing, and more. This event provides an opportunity for participants to learn about the different cultures represented at the conference and gain a deeper appreciation for the rich diversity of our world.
Real UN Issues
At WIMUN, we believe that learning about real-world issues is essential for creating an authentic and impactful Model UN experience. That is why we select each issue discussed in our simulations directly from the UN's Agenda. By doing so, we ensure that our participants are engaging with the most pressing global issues of our time and that the debates and negotiations are relevant and meaningful.
Simulating real UN issues also makes preparing for the conference easier, as participants have access to a wealth of materials, including carefully researched resource guides on each assigned topic and other relevant documents. This allows participants to develop a deeper understanding of the issues they will be discussing and to contribute more effectively to the debates.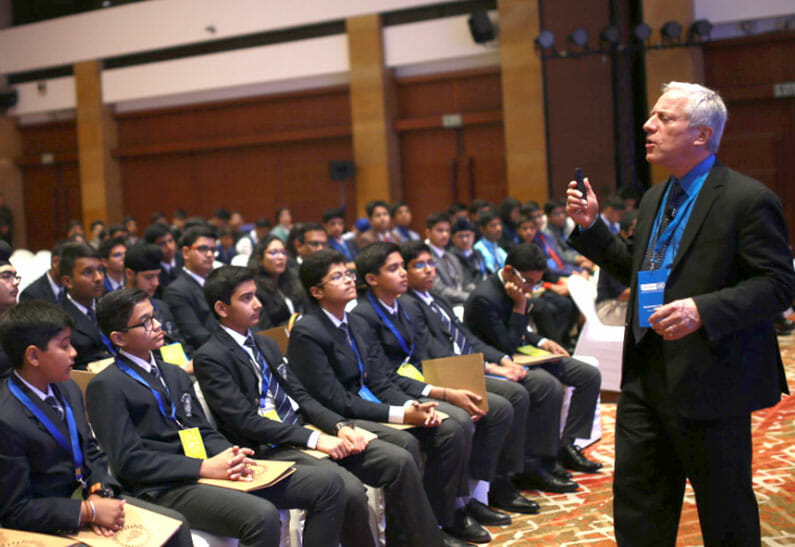 Training
WIMUN offers an unparalleled training experience for participants, providing them with the necessary tools to fully engage with the conference simulations. Pre-Conference webinars cover a range of topics, from the history of decision-making in international organizations to position paper writing, resolution writing, researching topics and country positions, and training on the specific procedures used in each simulation. On-site training is also provided, which includes comprehensive information on how each simulation functions in order to ensure that everyone is on the same page and ready to dive into the simulation sessions.
Participants are also provided essential materials such as a delegate handbook with an overview of each UN entity that is being simulated, an overview of the flow of debate and rules of procedure, notes on the structure of the outcome document that will be negotiated, and guidance on how to draft and amend the type of outcome document that will be adopted in a particular simulation. With more training opportunities than any other Model UN conference, WIMUN ensures that participants are fully equipped to take on the challenges of the conference and engage with the simulations in a meaningful way.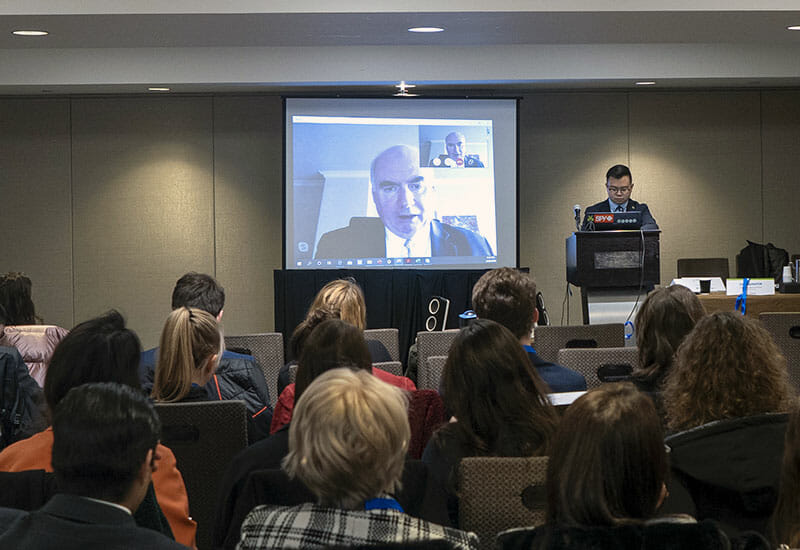 UN Experts
At WIMUN, participants have the unique opportunity to learn directly from UN experts and professionals working in the field of the topic they are discussing. In the beginning of the conference, each simulation is briefed by a UN staff member or other expert on the topic, providing participants with a deeper understanding of the issue they have been assigned.
This unparalleled access to experts and professionals offers participants an invaluable opportunity to learn from those working in the field, something that is not offered to the same extent at any other Model UN conference. By learning directly from experts, participants gain a deeper understanding of the issues they are discussing and are able to develop a more nuanced and comprehensive perspective.
Wide-Range of Simulations
WIMUN provides an extensive range of simulations that cater to diverse interests and skill levels of participants. Conferences include a mix of the following simulations:
The Plenary and Main Committees of the General Assembly
The Security Council
The International Court of Justice
Six Functional Commissions of the Economic and Social Council (ECOSOC), such as the Commission on the Status of Women (CSW) and the Commission on Crime Prevention and Criminal Justice (CCPCJ)
The International Labour Organization
The World Health Assembly
The Human Rights Council
The UN Environment Assembly
Futuristic Simulations, such as the UN Youth Council and the Peacebuilding Council
Each simulation is developed in cooperation with the UN body being simulated to ensure accuracy and realism. In addition, WIMUN is actively working to develop new simulations for future conferences.